Congratulations to Natalia M - our Strength and Gentleness Recipient for June 2020
Natalia is the deserving recipient of the Strength and Gentleness award for June 2020.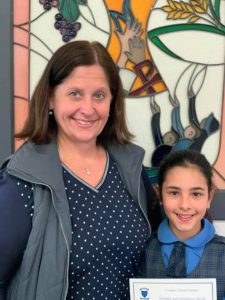 Natalia has shown the ability to be persistent with a gentleness that is peaceful and consistent in character. She brings unity and a sense of calm to our Year 4 classroom. Natalia exemplifies our school motto of Strength and Gentleness through her kindness and compassion shown to all those around her. She is an absolute role model of our Corpus Christi values and has taken her role of SRC representative for Year 4 seriously and with pride. Natalia lives the Golden Rule, "Do unto others as you would have them do unto you".
The thoughtfulness and patience she always shows to others illustrates her gentle spirit. Natalia has displayed great strength and persistence in her application to all learning this year and should be congratulated for striving to be her very best self.
Well done Natalia!