Congratulations to Sean Stephenson, our Strength and Gentleness award recipient for April 2020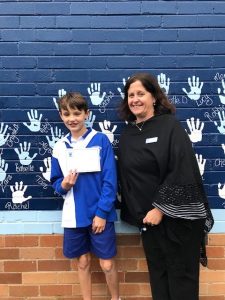 Sean is a role model of Strength and Gentleness at Corpus Christi. Sean is always friendly and kind. He takes time to say hello to children and teachers at school and is a wonderful listener.
During our Home Based Learning period, Sean has shown amazing strengths in completing all of his learning tasks independently and to a very high standard and has helped his classmates with technical or learning problems whenever required.  He participates enthusiastically in all of our class and school events with a positive attitude.  He has a wonderful quiet and gentle spirit which underlies his strength of character – true qualities of the Corpus Christi motto.  Congratulations Sean on achieving this well deserved award.