Congratulations to Eloise Stuart our Strength and Gentleness award recipient for May 2020.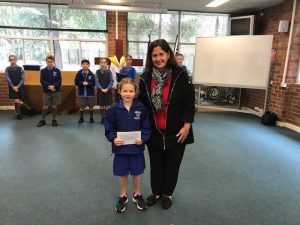 Eloise consistently demonstrates Respect for Others by showing strength and gentleness in all her actions.
She is a vibrant student who is always cheerful and welcoming. Her positivity glows and has a ripple effect on the people around her.
Eloise demonstrates strength of character by showing initiative rather than being a bystander when she sees a situation that is not right. She will go out of her way to make others feel happier and is very empathetic and inclusive.
Eloise is always respectful to every individual she interacts with and recognises that we are all unique and face different challenges. She shows gentleness with her encouraging words and rejoices in celebrating other students' achievements.
Eloise is an exemplary role model.