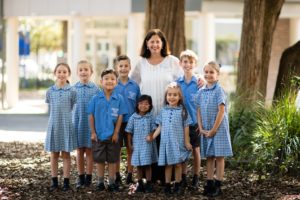 Corpus Christi Catholic Primary School was established in 1954 by the Brigidine Sisters. As Principal I feel privileged to be part of the 'story', a rich tradition that has been unfolding since this time. Visitors to Corpus Christi should instantly recognise that we are a Catholic school and a part of the broader Catholic Church. Here at Corpus Christi we work hand in hand with our Parish.  
The school motto "Strength and Gentleness" encourages our children, through the example of our dedicated and highly trained teaching staff, to grow in loving relationship with Jesus. Teachers employ innovative techniques to provide a comprehensive curriculum that is relevant and engages children in reflective practice and inquiry. These learning experiences will prepare our children to be successful in today's fast-paced and rapidly changing twenty-first century environment.
Our school is an inclusive family-oriented community which promotes respect for the individual and service to others. We work in partnership with parents to adopt a common vision and high expectations, enabling children to reach their full potential.
We warmly welcome you and your children to our community and trust that your association with us will be happy and rewarding. I pray that God will bless you, your families and the work you do to enrich our school community.
With best wishes,
Jayne Wheen
Principal
Click here for enrolment information.