Big enough to matter, small enough to care.
Come along to our Open Day and see how we're inspiring our students to love learning and be the very best they can be.
Open Day – Friday 23rd April, 8:45am – 10:45am
Student-led school tours: 8:45-10:45am
Principal's address: 10am
School performances, morning tea, open classrooms
– New Gifted & Talented program
– New Senior Learning Hub for Years 5 & 6
– New Leadership team
– 2 ovals, playgrounds, all-purpose court, handball courts
– Students known & nurtured by all staff
– Feeder school to Pius, St Leos & Brigidine
Enrolling now for 2022!
At Corpus Christi, it's our community that makes us different, it is an essential part of our school with teachers, families and students all caring and supporting each other throughout their time here. We offer a dynamic learning environment with extensive greenspace and playgrounds. Our Gifted and Talented program is available across all learning areas with enrichment programs also integrated into every classroom using field experts to mentor our students. Our new Learning Hub launching in 2021 will assist our students in Stage 3 to be high school ready.  Our small class sizes allows your child greater access to opportunities, leadership roles and a well-rounded education based on the Catholic values which underpin our curriculum.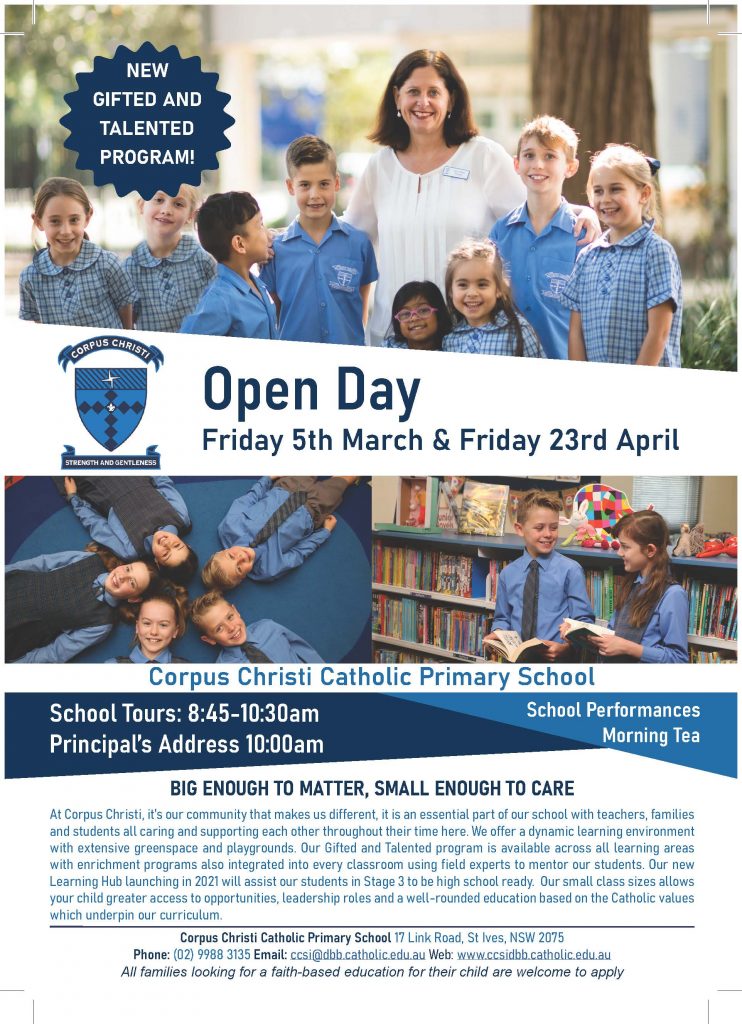 ENROLMENT INFORMATION