Corpus Christi School Captains of 2022 invite you to our Open Day Friday 27 May 8:30am!
Ever wondered what goes on behind the gates of Corpus Christi Catholic School, St Ives? Click on the video link to join our School Captains in their highly energised and fun-filled tour of Corpus Christi Primary School.
OPEN DAY – Friday 27 May 2022
Meet our personal & nurturing Corpus community!
Corpus Christi warmly invites your family to attend our OPEN DAYS held Friday 18 March & 27 May 2022 at 8:45am to understand why parents are choosing Corpus;
Gifted & Talented program
Outstanding NAPLAN results
Senior Learning Hub (Years 5 & 6) – transition to high school
2 HUGE ovals, extensive greenspace, NEW playgrounds, all-purpose court
Students known & nurtured by all staff
Close-knit & highly social community
Feeder school to Pius, St Leos & Brigidine
Programme:
– Student-led tours from 8:45am
– Principal's address at 10am
– Morning tea, school performances, open classrooms from 8:45am – 10:30am
Enrolling now for 2023!
Why choose Corpus Christi?
'Small enough to matter, big enough to care.'
Corpus Christi is committed to nurturing confident, well-rounded, innovative 21st Century learners. We are immensely proud of our dedicated and passionate teachers who work closely with our families to foster the individual needs of every student. At Corpus Christi, every child is nurtured and well-known to all staff, students, and families. It's our close-knit, highly social and supportive community that makes us different. We offer a dynamic learning environment equip with flexible furniture surrounded by extensive greenspace and playgrounds. Our Gifted and Talented program 'ASPIRE' encompasses ALL learning areas including STEM and The Arts. We utilise field experts to mentor our students and integrate enrichment programs into every classroom. Our small class sizes allow your child greater access to opportunities, leadership roles and a personalised, well-rounded education. Before and After School care offered onsite.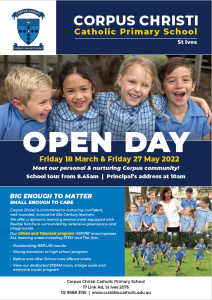 ENROLMENT INFORMATION